so, yes. it
IS
true. it's officially been over a month since either one of us has updated the blog. it's not that we didn't want to, it's just that we've been busy doing the not-so-exciting things that have to be done in preparation for the record to be released. this includes going over contracts, creating a bio and press release, doing interviews, having press photos taken, making final decisions on the masters and the artwork, etc. oh, and i think we managed to squeeze a show or two in between all of those activities.
i realize this is old news by now, but i do feel it's appropriate to mention the fact we elected an excellent new leader for our country. HOORAY! here's a photo i took of a painting in some art gallery in Manhattan during CMJ this past October:
and here's a photo i took at the final rally before the election, under the arch, in St. Louis, MO.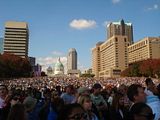 pretty epic, right?
oh, we hope you had a good Thanksgiving, too.
as far as
The Loud Wars
is concerned, we're getting extremely close to where we can spill all the beans on the details. this includes the name of the label who will releasing it, the date in which that will happen, and the tour(s) that will coincide.
oh, yeah. speaking of which, we're going on a tour that starts tomorrow.
- All dates w/ Ra Ra Riot -
Dec 3 – Burlington, VT @ Higher Ground
Dec 4 – Albany, NY @ Valentine's
Dec 5 – Northampton, MA @ Iron Horse
Dec 6 – Swarthmore, PA @ Olde Club
Dec 10 – Newport, KY @ Southgate House
Dec 11 – Louisville, KY @ 930 Listening Room
Dec 12 – Nashville, TN @ Exit/In
Dec 13 – Athens, GA @ 40 Watt
Dec 14 – Asheville, NC @ The Grey Eagle
Dec 16 – Baltimore, MD @ Ottobar
and finally, a song from our show as
In the Garage: A Tribute to Weezer,
has been posted. thanks to Ben at WUTV at Washington University in St. Louis for the video.